BESAN KA HALWA
Written by Jessica Lal on October 14, 2021
This soft, spoonable halwa made with gluten-free chickpea flour or besan is a delicious and easy Indian sweet treat. This moreish halwa redolent with fragrant ghee, saffron, nuts and dry fruits is perfect for celebrations or any time you crave a sweet treat.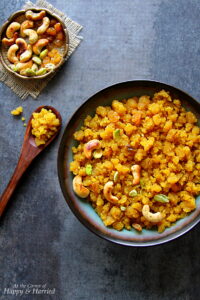 YOU WILL NEED:
Ghee – 5 tbsp, divided
Chickpea flour – 1 cup, sifted to remove lumps
Milk – 1¼ cups
Saffron – a pinch
Sugar – ½ cup
Cardamom powder – a big pinch
Cashew nuts – 4-5, chopped
Pistachios or almonds – 4-5, chopped
Golden raisins – 6-8
HOW TO:
Take milk and saffron in a saucepan and start boiling it on the stove.
Melt 4 tbsp ghee in a large skillet over medium heat. Add chickpea flour and quickly stir to combine with the ghee.
Roast the chickpea flour in ghee on low heat, stirring constantly. Keep stirring till you get a nutty aroma from the roasted flour, which will take around 15 minutes. At first the mixture will be dry, but after roasting for a while, the flour will look slightly moist because it will be cooked and start to release the excess ghee.
Pour the hot saffron infused milk slowly into the flour, stirring well so that no lumps are formed. Stir and cook till all the milk seems to be absorbed, 2-3 minutes.
Now add sugar and cardamom powder and mix well. The sugar will introduce some liquid which you need to cook out. Stir and cook the halwa for 4-5 minutes or till it is thick and starts to pull away from the sides of the pan.
Add a teaspoon of ghee and mix well before removing from the heat. This gives a slightly shiny appearance to the halwa.
Heat 2 tsp of ghee and fry the cashew nuts and raisins. Mix them in the halwa before serving. (Please note that if you are using almonds or pistachios, do not fry them in ghee but add them straight into the halwa.)
Serve besan ka halwa warm or at room temperature.
NOTES:
1. It is absolutely essential to roast the besan well in ghee before adding milk and sugar. This is so that the besan gets cooked well and doesn't taste raw at the end.
2. You can use water instead of milk in this recipe, but milk gives a better flavor to the halwa.
3. It is important to consistently stir this halwa while cooking so that the halwa turns out soft.
4. To make slightly runny halwa, increase milk to 2 cups and remove halwa from heat when the added sugar has melted and just about combined with the halwa. There is no need to sauté and thicken it further.
Source : AT THE CORNER OF HAPPY & HARRIED
---