Aayush Sharma says he was 'paranoid' while filming intimate scenes for Antim: 'My wife is watching'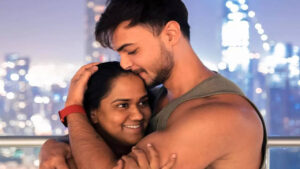 Actor Aayush Sharma is gearing up for the release of his upcoming film Antim: The Final Truth, which also stars superstar Salman Khan. The film, helmed by Mahesh Manjrekar, is Aayush's first movie after his debut flick Loveyatri. It sees him in a never-seen-before avatar, playing a dreaded gangster.
Recently, the makers of the film dropped the video of the romantic track Hone Laga. Aayush and actress Mahima Makwana's sizzling chemistry in the music video has been garnering a lot of attention. However, Aayush has revealed that he was 'extremely uncomfortable' filming the intimate scenes.
Aayush follows a no-kissing policy, just like his brother-in-law, superstar Salman Khan. In an exclusive chat with Zoom Digital, Aayush spoke about how intimate scenes make him feel awkward. The actor said, "I am very uncomfortable doing intimate scenes. I am extremely nervous while doing it. I just feel very jittery."
Talking about the recently-released track, he added, "I remember even when we were shooting for Hone Laga, I was paranoid. I was like I don't want this to look something else (onscreen). My wife is watching, my kids are watching, I don't know what's going to happen, there were ten thousand thoughts."
Aayush is married to Salman's younger sister Arpita Khan. The duo got married in November 2014. They are parents to two kids – Ahil and Ayat.
The Loveyatri actor also recalled a prank Mahesh played on him during the shoot of Antim. "He called me and said that the film needs a kissing scene. I told him I can't do a kissing scene. But he reiterated that the film needs it. I then requested, 'Sir please don't do it to me. It's a gangster film, let's not get into a love story.' And, I was trying to convince him out of it. Like a child, I even went to the actress (Mahima) and asked her to say she's also uncomfortable," he laughed.
The actor says that while he does understand that these scenes need to be done aesthetically, he just can't do it. "If you see me in Hone Laga, I am just like static, trying to do my bit," he said.
Source: Bollywood Zoom
For more tune into: 101.0FM, 101.4FM, and 100.8FM
---