Rani Mukerji reveals Aditya Chopra doesn't like her touching his things at home: He's very organised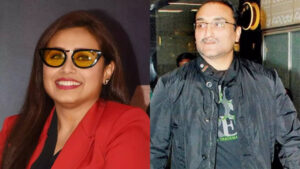 On Saturday, comedian Kapil Sharma welcomed Rani Mukerji and Sharvari Wagh to his show as guests. The three candidly spoke about several things along with the upcoming film Bunty Aur Babli 2. After Rani, Saif Ali Khan also entered the show as a guest and had a candid conversation with the comedian.
In the first half episode of TKSS, Rani and Sharvari kept the audience entertained. Later, Saif and Siddhant Chaturvedi joined their two co-actors and took the show forward.
Since Rani Mukerji plays the role of a middle-class woman in Bunty Aur Bubli 2, Kapil asked some fun questions from the actress on the show. To check Rani's knowledge about household items, Kapil asked her how much LPG gas and pao cost these days. While Rani knew how much gas costs, she didn't know the price of paos.
Then Kapil asked Rani if her husband Aditya Chopra asks her about towels at home. To which, Rani replied with a stern no and said that he is very organised and particular about his things. And, he doesn't like anyone touching his personal stuff or changing their place.
As a piece of advice to all the housewives, Rani said that everyone should let their husbands be and not call them all day to ask where they are. While talking about her equation with her husband, Rani said that she only calls him once at night, if he is coming late. And, Aditya usually replies by saying, "Leaving just now."
Source: Bollywood Zoom
For more tune into: 101.0FM, 101.4FM, and 100.8FM
---