Patralekhaa's bridal dupatta featured a special message for Rajkummar Rao
Written by Shresta Dutt on November 16, 2021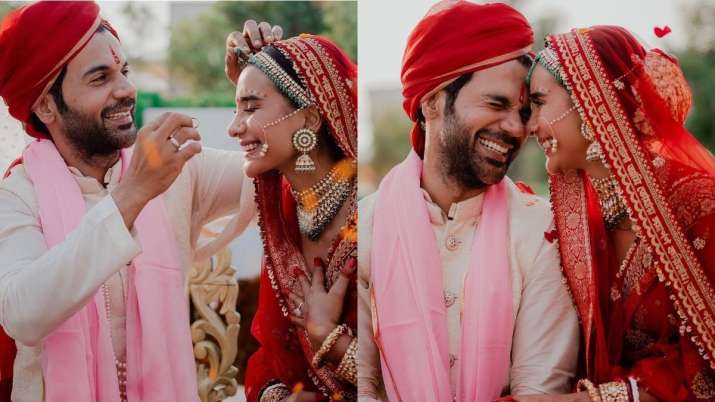 Stunning pictures from Rajkummar Rao and Patralekhaa's private wedding are pouring in on social media. The actress looked dreamy in a red lehenga and her personalized dupatta featured a special hidden message for beau Rajkummar Rao. Patralekhaa declared her love for Rajkummar with a special note weaved in Bengali on the hem of her dupatta. Written in Bengali: Amar paran bhora bhalobasha ami tomay somorpon korilam, translates as: I surrender my heart filled with love to you.
Announcing their wedding, Patralekkhaa had shared, "I got married to my everything today; my boyfriend, my partner in crime, my family, my soulmate…My best friend for the last 11 years! There is no greater feeling than to be your wife! Here's to our forever."
Rajkummar Rao and Patralekhaa's wedding was hosted at a luxury hotel in Chandigarh. The couple's nuptials were attended by family and close friends from Bollywood. Post the wedding, Rajkummar Rao and Patralekhaa shook a leg to Shah Rukh Khan's songs that were being played live by a band at their wedding reception. A source had revealed, "Since Rajkummar is such a big SRK fan, it was a given that songs from SRK's films would play at the wedding. Rajkummar had requested the band to play his favourite songs from Shah Rukh Khan's films." Later, Rajkummar took to the stage, taking over the mic from the band and began singing few of his favourite tracks for Shah Rukh's films.
---