Sushmita Sen lets fans in on a little secret, reveals she had a surgery 3 days ahead of her birthday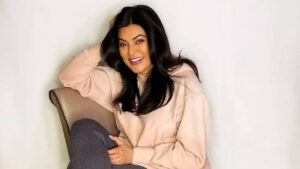 Bollywood actress Sushmita Sen, who is an avid social media user, continues to make fans a part of her journey on screen and off it. The actress' Instagram account is full of posts of love and gratitude. On the occasion of her birthday, Sushmita took to social media to share an elaborate note to express her gratitude. The birthday girl, who turns 46 today, sent out a big thank you to everyone for showering her with a lot of good wishes, blessings and love.
A part of her caption read: "#birthdaygirl 💃🏻❤️ A BIG 'Thank you' to all of you super generous & loving souls…unending showering of good wishes & blessings coming my way…making this birthday yet another one to be cherished!!!🥰😁❤️💃🏻🙏💋😘."
She further wrote: "I feel reborn this birthday in more ways than I can describe in words…🤗🙏😇❤️." Letting fans in on a little secret, Sushmita revealed that she completed the shooting of Arya two And then headed to address her health issues. The actress shared three days ahead of a birthday, that is on November 16, she underwent a successful surgery. "I completed AARYA 2 & then travelled to address my health….had a successful surgery on 16th Nov & I am healing marvellously every passing day…in this beautiful place!!! ❤️❤️❤️ I feel the goodness of all your energies & the strength of your love!!! 😇🙏 Keep it coming!!!" read a part of her caption on social media.
Taking her birthday as a healthy new beginning, Sushmita revealed that she is also sporting a new look. She also called "being alive" the biggest gift. While the actress didn't reveal what surgery she went through, her post has an abundance of gratitude and fans have showered her with nothing but love on her Instagram upload.
Alongside her heartfelt note, Sushmita also shared a photograph wherein one could see only the silhouette of the actress against a beautiful scenic view featuring clouds and blue sky.
Source: Bollywood Zoom
For more tune into: 101.0FM, 101.4FM, and 100.8FM
---