Did Amitabh Bachchan hint why he deleted Kangana Ranaut's Dhaakad tweet in new blog?: 'Several posts of mine…'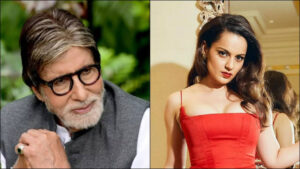 Kangana Ranaut-starrer Dhaakad has been making waves ever since the makers unveiled the trailer. The Panga star, known for her acting prowess, will be seen in a different avatar in the action thriller. The National Award-winning actress made waves on social media as she showcased her sensuous side in the song She's On Fire.
Bollywood megastar Amitabh Bachchan was one of the first celebrities to share the peppy number on social media. However, Big B raised eyebrows as he deleted the promotional post from his Twitter handle within a few minutes of sharing. Fans wondered why the Deewar actor deleted the post after wishing Kangana for Dhaakad.
What Amitabh wrote in his blog?
Amid the hullabaloo about the deletion of his post, Amitabh shared a long note on his official blog and revealed that he received notice because of his social media posts. Many netizens wondered if Big B was hinting this to be the reason behind deleting the post for Dhaakad's song.
"There are strict rules and regulations now by the GOI and the ASCI guidelines, I think that is who they are, who have now given ruling that, Influencers – a new terminology for them that put up product pictures with mention or product pictures, to state that they are the sponsors, promotors etc., or in partnership. else it is becoming illegal .. so several posts of mine have been given notices that the change should be done else.. ya," senior Bachchan wrote on his blog.
How Kangana Ranaut reacted to Amitabh Bachchan deleting Dhaakad tweet?
Kangana Ranaut, while speaking on the YouTube channel Tried & Refused Productions, opened up about Big B's deleting the post from social media. The Queen star said, "There are personal insecurities, they're all trying to hide behind 'Oh, we will get boycotted from the industry'. I don't think it's that. Kiara saw me, she was very comfortable, there's no pressure. Of course, there are likes and dislikes but this is so striking that Mr Bachchan tweeted the trailer and then he deleted it in other five-ten minutes. At somebody of his stature, whose pressure will he have?"
Yesterday, Salman Khan promoted Kangana Ranaut's Dhaakad by sharing the film's trailer on Instagram and Twitter. The Manikarnika actress thanked Salman and called her 'Dabangg hero' as she re-posted his post on Instagram story. She wrote, "I will never again say that I am alone in this industry…thank you from the entire Dhaakad team."
Source: Bollywood Zoom
For more tune into: 101/101.4/100.8Fm
---