Bollywood Actor Akshay Kumar Covid Positive Before 75th Cannes Film Festival Mhpl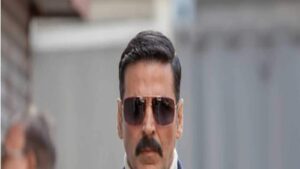 Mumbai, May 14: Actor Akshay Kumar has been found in Corona's lap again (Akshay Kumar Covid positive). The actor's corona test has come positive. This is Akshay Kumar's second corona. Corona has also lost its Cannes Wari (75th Cannes Film Festival). Akshay himself has informed that we are corona positive. He has posted on his social media. The 75th Cannes Film Festival kicks off on May 17. Akshay Kumar was also to represent India at the Cannes Festival. He was looking forward to this day. But with the Cannes Festival looming, Akshay Kumar was approached by Corona. So he won't be able to go to the Cannes Festival anymore. Akshay Kumar tweeted, "Looking forward to rooting for our film at Cannes Film Festival. But unfortunately Corona was positive. But good luck to the whole team. I will miss you so much."
Akshay Kumar has had corona before. He had a corona in April last year. At this time the shooting of Ram Setu film was starting. The shooting of the movie was also stopped for some time due to corona of Akshay and other crew members.
Read this – Devendra Fadnavis lashes out at Ketki Chitale
Corona can be re-infected once infected. Many such cases have come to light. Earlier, Sourav Ganguly, former health minister Dr Deepak Sawant and NCP leader Dhananjay Munde had also been infected with corona twice.
Why is the corona infected again and how dangerous is it?
The University of Cambridge studied coronary re-infection. Including the Indian Council of Medical Research (ICMR) And other organizations from around the world. According to this study, once the corona is infected, the body releases antibodies to it (Antibodies) Develop. Therefore, if the virus attacks again, the virus is neutralized. Capable antibodies do not develop because some people have low immunity. This can lead to re-infection. Whose Immunity (Immunity) Is weak and those whose bodies cannot develop strong immunity against corona, older people, as well as people struggling with disorders such as thalassemia, are at risk for a second corona infection.
Read this – Diabetes is not a problem to eat these 5 fruits; Sugar level will also be under control
ICMR studies have shown that the second infection (Reinfection). If symptoms do not appear when the first infection occurs, the body may not fully remember the antibody. So if the corona attacks a second time, the body cannot resist strongly.
How can a second infection be prevented?
Whether you are young, old, vaccinated or not, there is no substitute for observing masks, hygiene, sanitation and social distance. This is why a second infection can be prevented.
Marathi News, Breaking News First in Marathi on News18 Lokmat. Read the latest news, live news updates, first of all on the reliable Marathi news website News18 Lokmat.
Source: vervetimes
For more tune into: 101/101.4/100.8Fm
---