Woman makes a leopard her brother
Written by Anamika Singh on August 15, 2022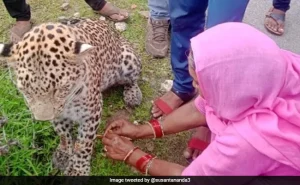 A photo is winning hearts all over the internet shows a woman tying rakhi to a leopard in Rajasthan. Her novel gesture and unconditional love to the animal is winning hearts on social media.
The photo shows the woman wearing pink saree, with her head covered, tying a Rakhi to injured leopard moments before it is handed over to the local forest department.
Since being shared, the post has garnered over 900 likes on Twitter. More than 90 users re-tweeted the post so far. Users praised the woman in the comment section for giving such wonderful message to people around.
"That is how it should be. We need to coexist with forests and wild life. God made all types of life and world is not only for human beings," wrote a user.
Another said, "Tying a rakhi is symbolical…the love and affection is so beautiful…as shown by the lady…and a big applause to all the staff who take care of our forests."
Source: NDTV
---