Woman's Revenge On "Filthy Cheater" Partner
Written by Anamika Singh on August 16, 2022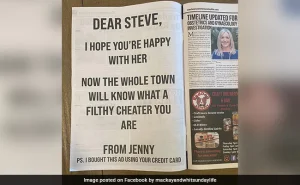 An unusual advertisement in an Australian newspaper has grabbed eyeballs. This is because a disgruntled woman decided to shame her "cheater" partner through a full-page advert. The photo of the advertisement has now gone viral, cracking up people on the Internet.
The picture was shared by the weekly newspaper, Mackay and Whitsunday Life, on Facebook after it was bombarded with queries about the advert. "Dear Steve, I hope you are happy with her. Now, the whole town will know what a filthy cheater you are.  From Jenny," the advertisement read.
Well, her revenge was not limited to this. As per the picture, the woman revealed, in the end, that she paid for the advert using her partner's credit card. "PS. I bought this ad using your credit card," it read.
Source: NDTV
---