Deepika Padukone's orange swimsuit scene in Pathaan has NOT been censored; is very much a part of 'Besharam Rang'
Written by Naman Narayan on January 25, 2023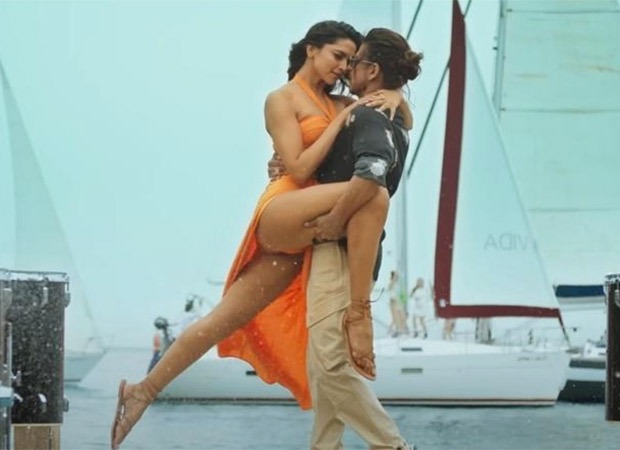 The much-awaited film Pathaan has finally released today and as expected, has taken a flying start. The film has been in the news for multiple reasons as it's a comeback film of Shah Rukh Khan after more than four years and also because it belongs to the same universe as Ek Tha Tiger (2012), Tiger Zinda Hai (2017) and War (2019). But since the last month, Pathaan has been in the news for the wrong reasons after certain sections objected to Deepika Padukone wearing an orange swimsuit in the song 'Besharam Rang'. They alleged that it hurt religious sentiments and this snowballed into a major controversy.
Later, the cut list from the Central Board of Film Certification (CBFC) got leaked and it mentioned that certain sensuous dance movements in 'Besharam Rang' have been removed. Many spread the rumour that this indicates that all shots of the orange bikini have been axed from the final cut of Pathaan.
However, now that the film has been released, we can assure you that that's not the case. The shots of Deepika Padukone donning hot orange swimwear are very much there. In fact, that particular shot is also crucial to the narrative and hence, there was no way it could have been chopped off.
However, as mentioned in the list of cuts, the close-up shots of Deepika Padukone's buttocks and 'side pose (partial nudity)' have been removed. As expected, the makers smartly replaced these shots with 'suitable shots' and it doesn't affect the continuity or narrative at all, thankfully.
Besides Shah Rukh Khan and Deepika Padukone, Pathaan also stars John Abraham. Superstar Salman Khan features in the film in a terrific cameo. Pathaan is directed by Siddharth Anand and tells the story of a patriotic agent fighting against the country's enemies. Interestingly, the revocation of Article 370 of Kashmir plays an important part in the narrative.
---