Residents of society in Delhi catch thief red-handed, celebrate his birthday
Written by Anamika Singh on February 6, 2023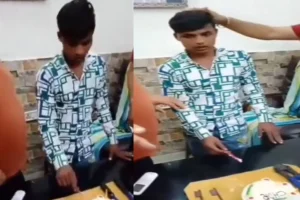 New Delhi: A video on Internet has not only left many on social media baffled but also began a discourse among Netizens about a bizarre birthday party thrown by the residents of a society in the national capital.
The people of a residential society in Delhi have had a tough time with the frequent robberies in the locality and decided to take several measures to avoid the troublesome situation.
In September last year, several society members spotted at least three unidentified persons trying to break into a flat and tried to catch them.
Though 3 of the burglars managed to escape from the society, one minor thief was caught by the residents of the Apartment Block. The scared thief reportedly told the society members that it was his birthday that day.
Deepak Madan Deepu, Residents Association President told that the thief claimed that it was his birthday and he, along with two of his friends, planned to break into the flat in order to steal some money or valuables to celebrate the day.
"He also said that his father died at a young age and there is no permanent source of income in the family. It was a sad story", he added.
After listening to his story, the society members decided to celebrate his birthday before handing him over to the police. And hence, a birthday cake was brought with chor (thief) written over it. The society members sang a birthday song for the thief and also served him soft drinks and snacks.
Source: Newsroompost
---