Chinese man proposes to girlfriend with dress made from 9,999 real red roses
Written by Aniketh Kumar on June 3, 2023
One man in China requested 9,999 red roses before asking for his girlfriend's hand in marriage.

And realising his partner's penchant for fashion, Xiao Fan had each blossom carefully stitched together to form a sweeping, floral bridal gown.
On February 2012, Xiao Fan, a man from Guangzhou proposed to his girlfriend, Yin Mi, with one of the most incredibly romantic and extravagant gestures ever! He definitely set the bar high for all the other men out there! He created a gorgeous custom-made dress made of 9 999 red roses just for her!
The couple caught the eye of onlookers as they took to the grounds of Chime-Long Paradise amusement park in the southern province of Guangdong.

It is where Mr Fan first met Yin Mi three years ago when she was crowned Miss Bikini 2009.
And judging by the dazzling engagement ring on her finger, Ms Mi accepted the proposal.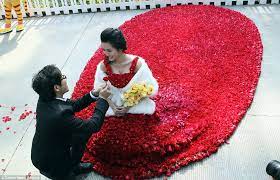 ---