Man Addicted To Tuna Fish Wears Its Juice As Cologne
Written by Anamika Singh on August 17, 2023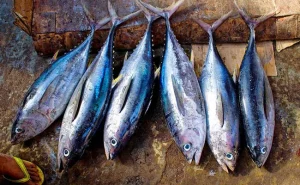 A US man has admitted to having such an intense addiction to the act of smelling, consuming, and even sipping from cans of tuna that it has led him to consume a staggering 15 cans on a weekly basis.
Referred to as 'Tuna Tyler' and hailing from Lawrence, Kansas, he made an appearance on an episode of the television program "My Strange Addiction: Still Addicted?" broadcast on the TLC network in the United States. During his appearance, he discussed his obsession with canned fish.
According to a report by The New York Post, Tyler has taken his obsession to the extent of even using its juice as a form of cologne.
"I love smelling tuna every day, all the time, all night, any day, every day," states the fish enthusiast.
"He's always liked fish. When he was little and most kids during Easter want chocolate in their baskets and things like that, he didn't eat the chocolate, so we put tuna and cans of sardines because he liked that," said Tyler's mother, Ursula.
"I didn't think it would turn into, you know, where he was smelling it and keeping it and being addicted to it now," his mother added.
Source: NDTV
---