Man Proposes To Girlfriend At Auckland Airport Over Public Address System
Written by Anamika Singh on September 5, 2023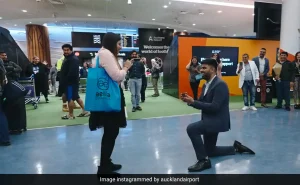 In a heartwarming display of love, a man orchestrated an elaborate Bollywood-inspired surprise wedding proposal for his girlfriend at Auckland airport, according to CNN. The video of the innovative proposal is now going viral on social media. Yashraj Chhabra went down on one knee in front of thousands of people to propose to his girlfriend Riiya Shukla on August 18. He took over the passenger announcement system to declare his love to his partner and ask her to marry him, the outlet further said.
Mr Chhabra cold-called and sent LinkedIn messages to any airport messages he could find. But various layers of airport protocol proved to be a challenge.
He finally connected with Laura Platts, the communications manager at Auckland airport. She helped Mr Chhabra organise logistics, like cake, flowers and their families to the airport.
The entire proposal was filmed by professional crew and posted on the airport's social media handles.
Source: NDTV
---