El Diablo Restaurant- Teguise, Spain
Written by Aniketh Kumar on September 9, 2023
Building a restaurant on top of a massive heat source is not the easiest task. Architects Eduardo Caceres and Jesus Soto had to lay 9 layers of basalt rock in lieu of digging down to build a foundation. A giant grill is laid across the opening, where 6 feet below, the gentle giant is softly bubbling lava at 400 degrees Celsius, apparently the perfect temperature for volcanically grilled meats.
If the thought of trying to eat your salad as fire shoots in the air and lava spews out of the dining room deters you, fear not. This dormant volcano has been peacefully gurgling below the surface since it's last eruption in 1824. What could possibly go wrong?
Aside from the dramatic cooking methods, El Diablo also brags an amazing otherworldly panoramic view of Lanzarote's Timanfaya National Park, a martian landscape of red sands and volcanic rock. The vista is framed by the "Montañas del Fuego," or Fire Mountains, roughly 100 volcanos that sprung up on the island in the 18th century. May they continue to cook only the entree.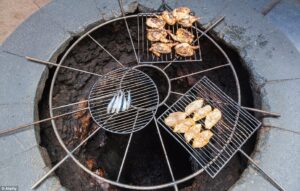 ---