India's largest tunnel aquarium 'Aqua Marine Park' is to come up in Hyderabad
Written by Aniketh Kumar on September 17, 2023
The Aqua Marine Park (tunnel aquarium) in Hyderabad will be India's largest project that will be built with Rs. 300 crores.
With over 2,50,000 sq. ft built-up area, this tunnel aquarium will come up in the Kothwalguda Eco Park, spread over 4.27 acres.
The curved tunnel will be at least 100 metres with a 3.5-metre walkway and a 180-degree view.
"We are also exploring options to set up such multiple tunnels," said an official from the Municipal Administration and Urban Development (MA&UD) Department.
This Aqua Marine Park will have tunnels with various aquamarine species, including fish, reptiles etc.
It will also have a restaurant with a view of exhibits/panel displays, a dome theatre, a virtual aquarium, touch tanks and interactive kiosks for children.
India's biggest tunnel aquarium will have a minimum capacity of around 2,500 people.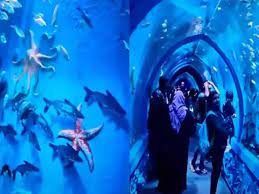 ---