Popcorn Beach is a famous beach on the island of Fuerteventura. This magnificent natural site is visited by many curious travelers and it is one of the most exciting "secrets" of the Canary Islands. Read this article to find out how to get to the beach, what to expect and what these small "rocks" taste like!
What is Popcorn Beach?
Popcorn Beach, or Playa del Bajo de la Burra as it is originally called, is one of the most interesting beaches in Fuerteventura. It is not your typical beach, as instead of rocks, pebbles, or sand, this beach is actually covered in popcorn. Well, not really, but the small white algae fossils that cover much of the coast look exactly like puffy popcorn!
These marine algae are called rhodoliths and although initially red in color, they turn white over time. The waves push them ashore, also giving them their unique shape. This natural phenomenon can be observed in other beaches too, but Popcorn Beach in Fuerteventura is one of the most impressive!
How do I get to Popcorn Beach?
Popcorn Beach is located on the northern coast of Fuerteventura, close to the town of Corralejo in the municipality of La Oliva. You can get to the beach on foot from Corralejo, taking a 1-hour hiking trail. Alternatively, you can drive to Popcorn Beach, following Majanicho Street, east of the coastal village of Majanicho.
The distance from the port of Morro Jable to Popcorn Beach is approximately 120 km, while from Puerto del Rosario, located 41 km from the beach, it is a 40-minute drive.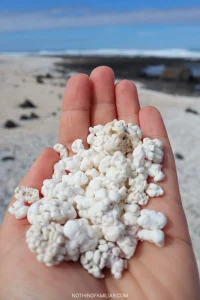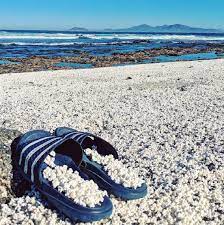 ---